Rentals
Available yearly, monthly, daily. We included all service, parts and supplies, with option to purchase.
We have all the necessary equipment to fit your needs and requirements.
Financing Available
We offer financing from 36, 48 and 60 months at the lowest rate in the market. We do zero down payments and one dollar buy-out.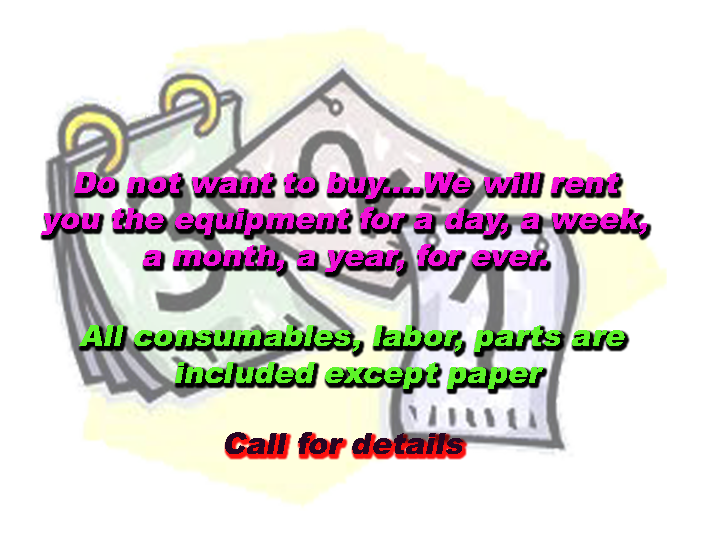 | Model | Manufacturer | Copier Type | |
| --- | --- | --- | --- |
| IR1025IF | Canon | Copier | |
| IR3225 | Canon | Copier | |
| C2030 | Canon | Copier | |
| C3080i | Canon | Copier | |
| C5030 | Canon | Copier | |
| C5035 | Canon | Copier | |
| C5045 | Canon | Copier | |
| C5051 | Canon | Copier | |
| C7055 | Canon | Copier | |
| C7065 | Canon | Copier | |
| IR1025N | Canon | Copier | |
| IR1730 | Canon | Copier | |
| IR1730IF | Canon | Copier | |
| IR2525 | Canon | Copier | |
| IR2530 | Canon | Copier | |
| IR2535 | Canon | Copier | |
| IR2535I | Canon | Copier | |
| IR2545 | Canon | Copier | |
| IR2545I | Canon | Copier | |
| IR2022 | Canon | Copier | |
| IR1023i | Canon | Copier | |
| IR3035 | Canon | Copier | |
| IR3080 | Canon | Copier | |
| IR5185 | Canon | Copier | |
| IR3230 | Canon | Copier | |
| 3225 | Canon | Copier | |
| IR3235 | Canon | Copier | |
| IR3245I | Canon | Copier | |
| IR5050N | Canon | Copier | |
| IR4051 | Canon | Copier | |
| IR6055 | Canon | Copier | |
| IR6065 | Canon | Copier | |
| IR6075 | Canon | Copier | |
| IR7095 | Canon | Copier | |
| IR8085 | Canon | Copier | |
| IR8095 | Canon | Copier | |
| IR8105 | Canon | Copier | |
| IF DR-2022 | Canon | Scanner | |
| IF DR-2010C | Canon | Scanner | |
| IF DR-3010C | Canon | Scanner | |
| IF DR-2510M | Canon | Scanner | |
| IF DR-2510C | Canon | Scanner | |
| IF DR-2580C | Canon | Scanner | |
| IF DR-M160 | Canon | Scanner | |
| IF DR-M140 | Canon | Scanner | |
| IF DR-6010C | Canon | Scanner | |
| IF DR-6030C | Canon | Scanner | |
| IF DR-6050C | Canon | Scanner | |
| IF DR-7090C | Canon | Scanner | |
| IF DR-7550C | Canon | Scanner | |
| IF DR-9050C | Canon | Scanner | |
| DR X10C | Canon | Scanner | |
| IPF9100 | Canon | Large Format / Engineering | |
| IPF9000S | Canon | Large Format / Engineering | |
| IPF8300 | Canon | Large Format / Engineering | |
| IPF8300S | Canon | Large Format / Engineering | |
| IPF8000S | Canon | Large Format / Engineering | |
| IPF6350 | Canon | Large Format / Engineering | |
| IPF6300 | Canon | Large Format / Engineering | |
| IPF6300S | Canon | Large Format / Engineering | |
| IPF6100 | Canon | Large Format / Engineering | |
| IPF5100 | Canon | Large Format / Engineering | |
| LASER CLASS 830I | Canon | Fax | |
| LASER CLASS 8100 | Canon | Fax | |
| EZ220 | Riso | Duplicator | |
| EZ390 | Riso | Duplicator | |
| EZ590 | Riso | Duplicator | |
| MZ1090 | Riso | Duplicator | |
| RZ1090 | Riso | Duplicator | |
| MZ790 | Riso | Duplicator | |
| Taskalfa 7550ci | Kyocera Mita | Copier | |
| Taskafla 6550ci | Kyocera Mita | Copier | |
| Taskafla 5550ci | Kyocera Mita | Copier | |
| Taskafla 4550ci | Kyocera Mita | Copier | |
| Taskafla 3550ci | Kyocera Mita | Copier | |
| Taskalfa 3050ci | Kyocera Mita | Copier | |
| Taskalfa 552ci | Kyocera Mita | Copier | |
| Taskalfa 300ci | Kyocera Mita | Copier | |
| Taskalfa 255c | Kyocera Mita | Copier | |
| Taskalfa 250ci | Kyocera Mita | Copier | |
| Taskalfa 205c | Kyocera Mita | Copier | |
| Taskalfa 8000i | Kyocera Mita | Printer | |
| Taskalfa 6500i | Kyocera Mita | Copier | |
| Taskalfa 5500i | Kyocera Mita | Copier | |
| Taskalfa 4500i | Kyocera Mita | Copier | |
| Taskalfa 3500i | Kyocera Mita | Copier | |
| Taskalfa 520i | Kyocera Mita | Copier | |
| Taskafla 300i | Kyocera Mita | Copier | |
| Taskalfa 420i | Kyocera Mita | Copier | |
| Taskalfa 820 | Kyocera Mita | Copier | |
| Taskalfa 620 | Kyocera Mita | Copier | |
| Taskalfa 305 | Kyocera Mita | Copier | |
| Taskalfa 255 | Kyocera Mita | Copier | |
| KM-2560 | Kyocera Mita | Copier | |